Before we dive into Thanksgiving and Christmas, there's another holiday to check off the list: Halloween. No matter where you're going this year, you'll be familiar with the pressure to find a costume that's somewhere between "cool but obscure" and "done to death." I'm here to take some of that weight off your shoulders: Drawing from some of the most talked-about shows and movies of 2019, I've compiled a small, but mighty, list of trendy 2019 Halloween costumes you can proudly wear and 'gram on October 31.
Most people tend to fall into two categories on Halloween: The ones who go all out, and the ones who don a cat-ear headband for the hundredth time. Armed with the inspo below, you definitely won't be the latter.
Marie Kondo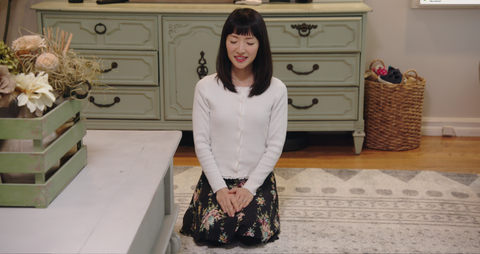 Netflix
Pay homage to the woman who made you clean out your closet, reorganize your shirt drawer, and declutter your life for the better. The world was taken with Marie Kondo's soft mannerisms and truly impeccable organizational skills. Her iconic white cardigan, floral skirt, and tights ensemble is easy to pull off and after October 31, the separates can be re-worn with other items in your wardrobe. Carry around containers, as Marie often does when she arrives for those home visits. Does this outfit bring us joy? Most definitely.
Classic Button-Up Cardigan Sweater
Grace Karin amazon.com $17.99
Pleated Skirt
H&M hm.com $8.99
200 Denier Control-top Tights
H&M hm.com $12.99
Foldable Natural Linen & Cotton Fabric Storage Bins
Sea Team amazon.com $23.99
Ali Wong From Always Be My Maybe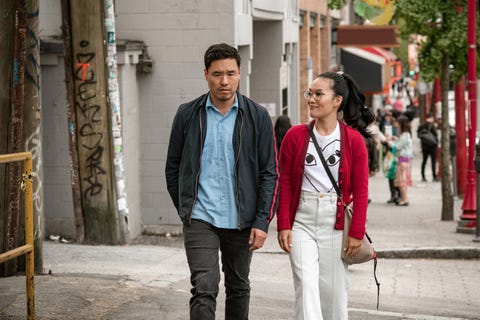 Ed Araquel / Netflix
I will be out of town for Halloween this year but if I wasn't, I'd dress up as Ali Wong's character in Always Be My Maybe. Not only was this film funny, but it also placed Asians, who are often excluded from the rom-com narrative, in leading roles. Ali Wong brought her usual comedic swag to the film while Iranian-American film maker Nahnatchka Khan made her feature directorial debut with this film. Wong's outfit is simple to re-create (you can DIY those hearts on a white tee, if you wanted) and this is a genius couples costume without being overly cute.
Front Cardigan Button Down Knitted Sweater
Exchic amazon.com $19.88
Gold Rim Glasses
Outray amazon.com $8.99
White Polka Dot Double Heart T-Shirt
Comme des Garçons Play ssense.com $105.00
Le Bardot Patch Pocket Crop Flare Jeans
Frame nordstrom.com $95.98
Hannah B From The Bachelorette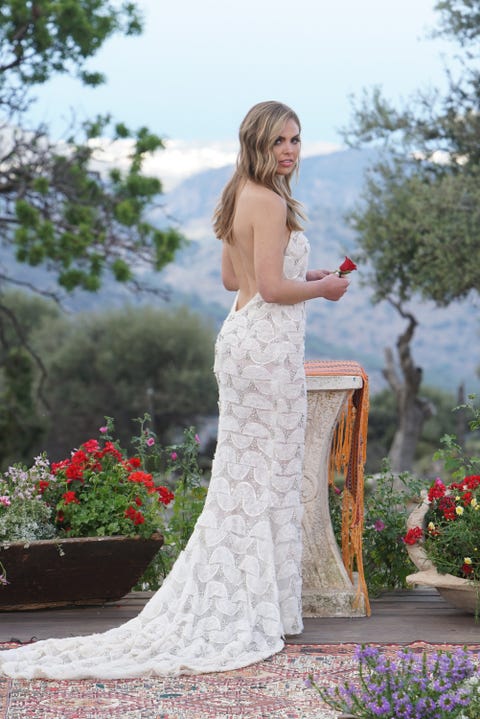 Mark Bourdillion
Name a more badass or memorable woman than Hannah B on last season's The Bachelorette. The former pageant queen unwittingly became a feminist force on national television and though she didn't end up finding a husband (pffft, men), she has earned a new badge as a trailblazer for women amongst the Bachelor community. For the single ladies of the group (or Bachelorette fanatics), channel your inner Hannah B by dressing up in white and carrying around a single rose.
Single Stem Red Rose
Louis Garden amazon.com $5.90
Jarlo White Plunge Front Maxi Dress
ASOS $166.00
Silver Heels
Dream Pairs amazon.com $29.99
Avery Name Badge Labels
Avery staples.com $6.99
Rue Bennett from Euphoria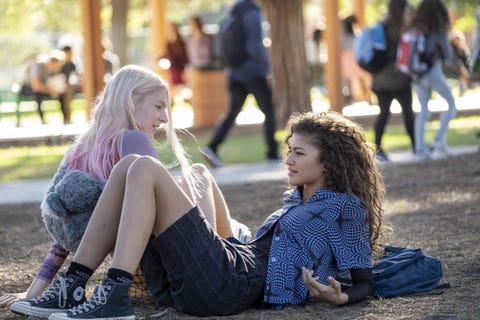 HBO
Since all your friends are talking about Euphoria, use it as inspiration for a costume on October 31. Tap into your best angsty teenage self and dress up as the show's protagonist, Rue. Her style consists of oversize hoodies and button-down mens-inspired shirts—comfy casual separates you'd stay home and watch Netflix HBO in. Just don't get into any trouble with law enforcement or drug dealers on Halloween, kay?

Placed Batik Rayon Short Sleeve Button-Down Shirt
Urban Outfitters urbanoutfitters.com $69.00

Madewell nordstrom.com $16.00+
Northside Vintage Tee
Jax Cutoff Denim Bermuda Shorts
Paige nordstrom.com $159.00
Chuck Taylor All Star Canvas High Top
Converse amazon.com $54.99
Maddy Perez from Euphoria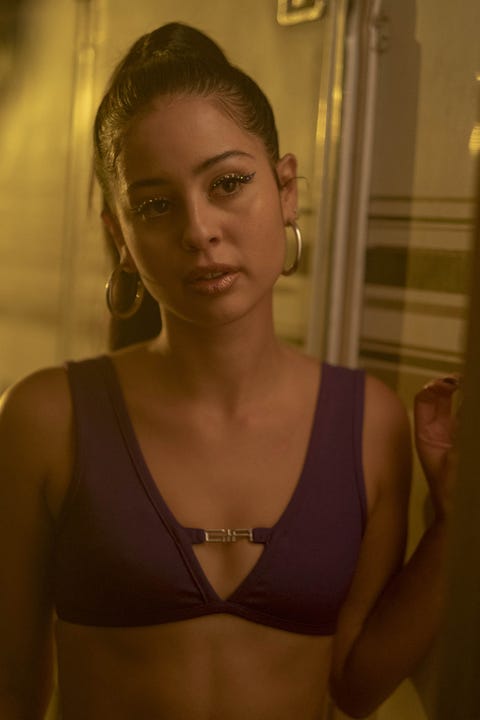 Courtesy of HBO
On the opposite end of the tomboy spectrum is Maddy, whose only require for clothes is the more skin, the better. Fans will recognize this outfit from season 1 episode 4, where Maddy takes molly, finds out her boyfriend's family actually hates her, and then gets choked by said boyfriend (Nate, you asshole). Though she is far from perfect, like everyone else on the show, her unique style and 'tude deserves some recognition too.
Lucid Top
I.AM.GIA iamgia.com $40.00
Lucid Pants
I.AM.GIA iamgia.com $75.00
Two Pairs Clip Earrings
Rhinestone Stickers

CheeseandU amazon.com $11.99
Agent H and Agent M From Men in Black: International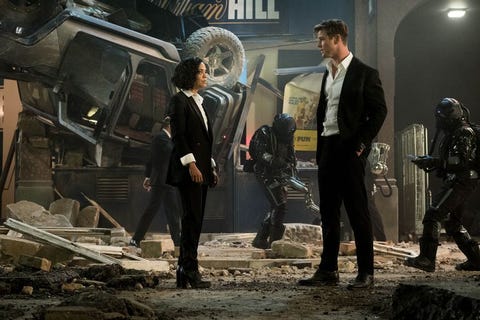 Sony Pictures
What caught my attention in this movie—aside from Chris Hemsworth and Tessa Thompson—were Agent M's combat boots. They looked cool and fabulous with her black and white suit. She is your spirit animal if you love badass female characters and "borrowed from the boys" when it comes to clothes.

Jane Jacket
Bailey 44 saksfifthavenue.com $278.00
White Cotton Courier Shirt
Madewell shopbop.com $65.00
McKenzie Leather Combat Boots
Schutz saksfifthavenue.com $157.50
Markie Cigarette Trousers
Topshop nordstrom.com $38.00
Miley Cyrus (Post-Liam Hemsworth)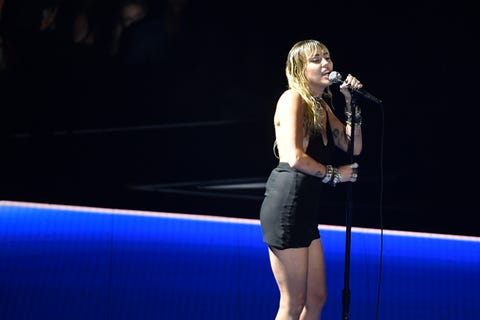 Noam GalaiGetty Images
Did anyone else get chills (and/or cry) while watching Miley perform "Slide Away" at the 2019 VMAs? Miley stans will love her performance outfit: a sexy little black minidress with heels and a ton of chainlink jewelry. The VMAs was not only her first public appearance at a major event post-breakup, but also the first time she made it clear that she is hanging out with Kaitlynn Carter. And yes, they're not afraid to show some PDA.
Gigi Lace Hem Dress
Superdown revolve.com $74.00
Steve MaddenSoph Heeled Sandal
Steve Madden amazon.com $68.00
Rhinestone Choker Necklace
Zealmer amazon.com $9.98
Curb Link Bracelet
Ciunofor amazon.com $23.99
Meryl Streep From Big Little Lies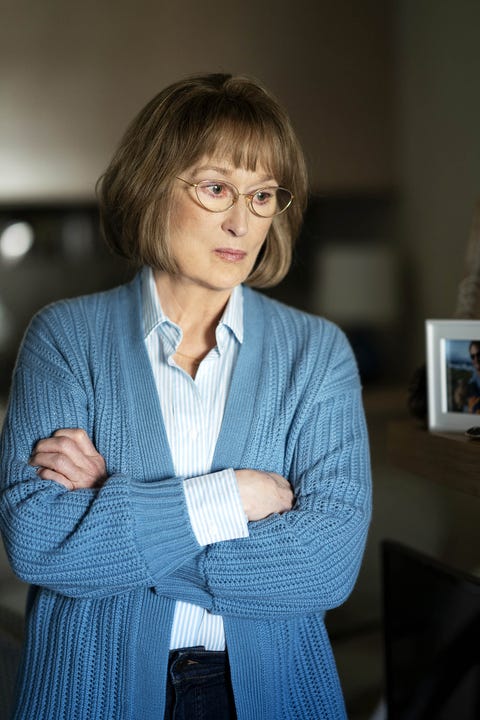 HBO
In the second season of Big Little Lies, we're introduced to Mary Louise Wright, Celeste's mother-in-law, who might even be scarier than Streep's previous alter ego Miranda Priestly. Mary Louise was known for poking her nose into everyone's business (granted, her son did die in a questionable "accidental" death) and wore the most buttoned-up ensembles imaginable. From her trench coats to button-up shirts, plus grandma cardigans, Streep's character was a... character.

Nolan Ribbed Open Front Cardigan
Madewell nordstromrack.com $44.97
Joyce Shirt

Joyce Byers and Jim Hopper From Stranger Things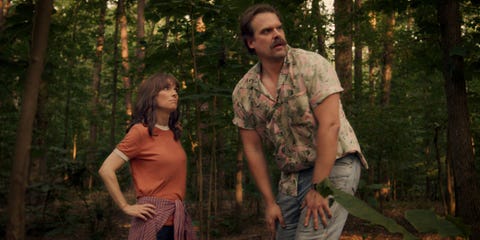 Netflix
Grab the Hopper to your Joyce and dress up as the couple we're all still rooting for in Stranger Things (spoiler: I'm choosing to believe he is still alive). There's nothing more fitting on a spooky holiday than to dress up as these two heroes who fight alongside their children to defeat and save the town from the Mind Flayer and Demogorgons.
American Apparel

Shawn Mendes and Camila Cabello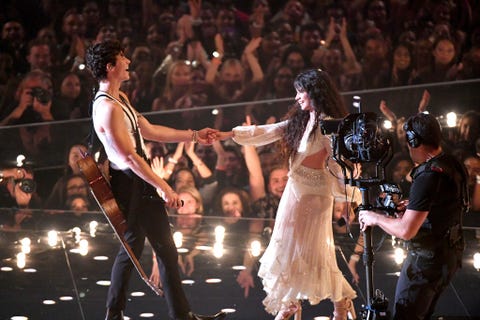 Noam GalaiGetty Images
Everyone, including Joe Jonas and Sophie Turner, got worked up over their 'Señorita' performance at the VMAs. Whether or not these two are actually an item remains to be seen. But they don't need to be an official couple for you and your SO to dress up and channel the same energies they displayed on stage. Bonus points if one of you can sing and play the guitar.
White Tanks
Hanes amazon.com $48.96
Billy Ray Cyrus and Lil Nas X in "Old Town Road"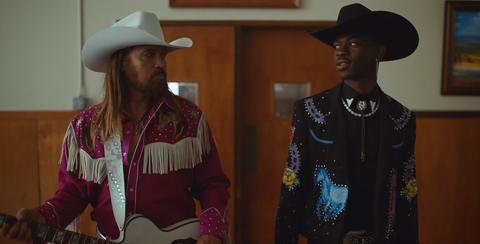 Youtube
You might have rolled your eyes at this song when it first came out, but a week in and you were blasting this on repeat. Dig out your old cowboy gear and repurpose them for your "Old Town Road" outfits. To prove that you're not just any cowboy/cowgirl, make sure this song is blasting throughout the night from your iPhone or Halloween playlist.
Classic Cattleman Straw Cowboy Hat
Western Express amazon.com $31.99

UwantC amazon.com $16.99
Charles Albert Modern Western Cowboy Boot
Charles Albert amazon.com $34.95
Megan thee Stallion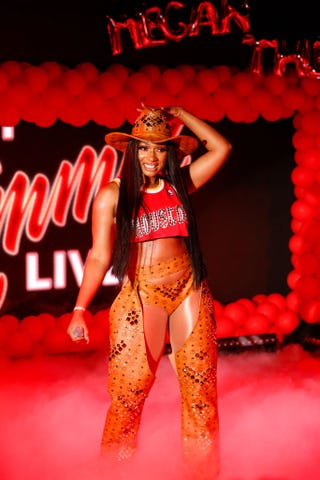 Randy HolmesGetty Images
Speaking of the yeehaw agenda, there's perhaps no better representative for all things country than Houston's very own Megan thee Stallion. This costume isn't for the weak of heart (or knees), but if there's any day that it would be acceptable to don a pair ass-less chaps in order to channel your inner hot girl, it's Halloween!
Faux Felt Cowboy Hat

Prestige Palace Awards amazon.com $8.99
Handheld Microphone
Musician's Gear guitarcenter.com $9.97
The U.S. Women's National Soccer Team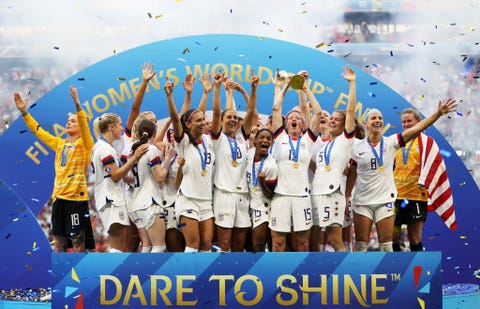 Naomi Baker - FIFAGetty Images
Doesn't matter if you're a lifelong soccer fanatic with the childhood scars to prove it or just a woman who loves seeing women win—you definitely tuned in to watch the USWNT's 2-0 victory over the Netherlands in the 2019 FIFA Women's World Cup. This year, kick off (sorry) your Halloween festivities with a tribute to Megan Rapinoe and the squad.
Gold Award Medal

Amsale farfetch.com $270.00
Soccer Ball
Yanen amazon.com $15.99
Missandei From Game of Thrones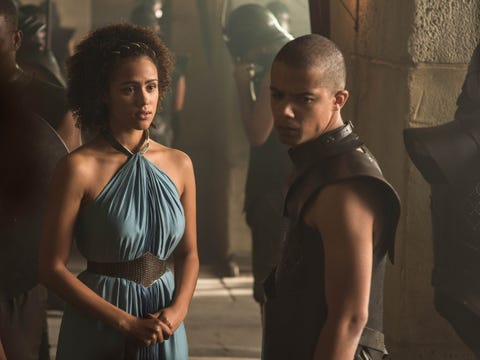 HBO
Game of Thrones officially ended in 2019, so this might be one of your last chances to dress up as a favorite character. Though Nathalie Emmanuel's character Missandei met an unfortunate death, she was a warrior nonetheless. You'll stand out in the crowd among all the White Walker costumes. (He's overrated.)
Fitted Halter-neck Gown
SElton John From Rocketman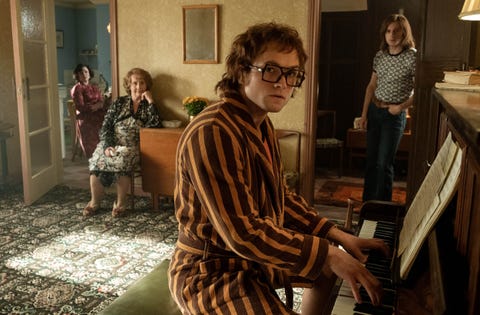 Paramount Pictures
If you're looking for costumes that don't skimp on patterns or colors, turn your attention to Rocketman. Elton John is a legend, and this biographical musical film received rave reviews. One of our favorite looks is this striped suit, though his stage outfits deserve to be recreated too.
Jasper Green Pinstripe Double Breasted Oversized Blazer
Pretty Little Thing prettylittlething.us $55.00

Red from Us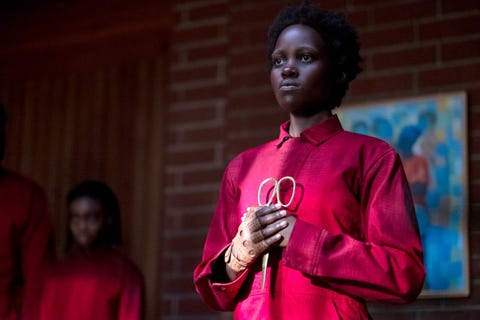 Claudette Barius/Universal Pictures
It's been months since the nightmare that was Jordan Peele's Us premiered in theaters, but the fear factor of Red and the rest of the Tethers is as strong as if we watched the film yesterday. Take spooky szn to the next level by strolling through town in her signature red jumpsuit—don't forget your scissors and throaty growl.