In 2016, a study by Baghunter found that the best option for long-term investors is to buy a Hermès Birkin handbag. Then the fashion resale market took off, and big players like Rebag, LePrix, The RealReal and Vestiaire Collective, along with Hermès-specific sellers like Jane Finds, made it easier than ever for consumers to find what were once almost mythical accessories. Now that were faced with a bonanza of Birkins, is the bag still a worthwhile investment?
This is precisely the question that Rebag hopes to answer with Clair, an easy-to-use mobile app launching Thursday that instantly determines the value of any handbag across a list of more than 50 brands and 10,000 bags. In an industry where pricing is notoriously shrouded in mystery, Clair aims to give consumers an exact and fully automated price that the resale company is currently willing to pay to acquire that item, while also serving as a common pricing reference for resellers worldwide.
"With more and more consumers contemplating the resale value of their luxury purchases, we've created a taxonomy that provides a more transparent way for consumers to shop more wisely," says Charles Gorra, Founder and CEO of Rebag. "We've spent years gathering data and analyzing the luxury handbag market. Clair is our way of sharing that knowledge with the world."
The concept of Clair, which stands for "Comprehensive Luxury Appraisal Index for Resale," was born when Rebag launched online in 2014. Since then, the company has dedicated a technology team of 25 people to building out this powerful proprietary software.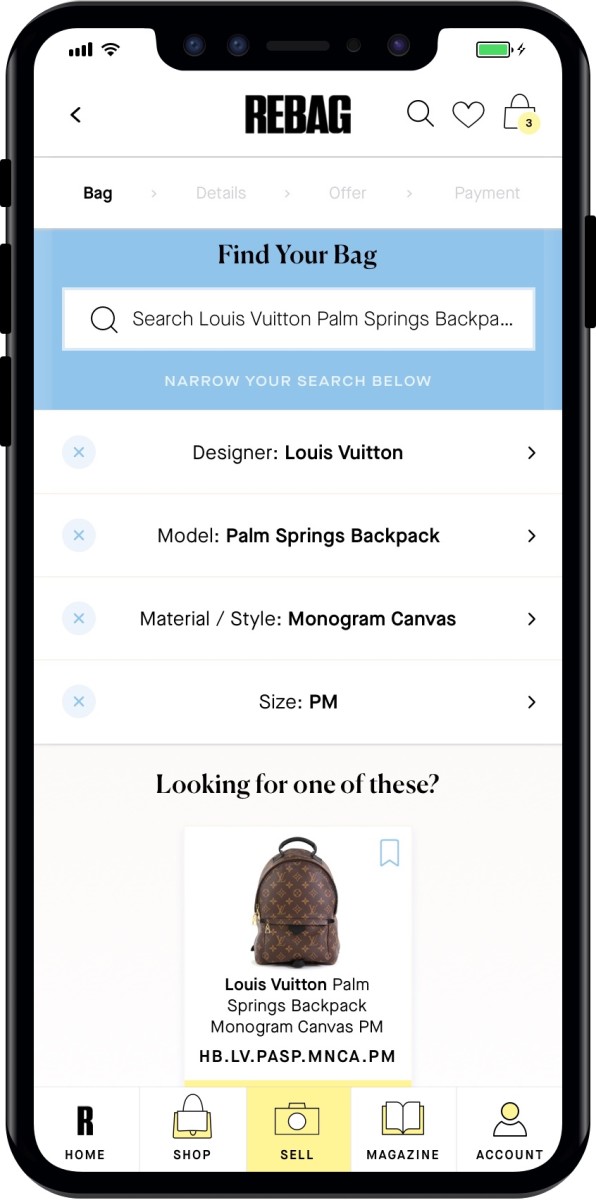 Clair. Photo: Courtesy of Rebag
The tool makes it possible to instantly check the value of luxury handbags in three easy steps: first, by going through the Rebag website or directly to the app; once on the Clair portal, you can select the handbag's brand, model, style and size; then, you give the platform more information about the color and condition of your bag, and finally, it will generate the accessory's resale value. Think of it as the Kelley Blue Book of the used bag world, but instead of simply providing a recommendation, Clair goes a step further and puts real money on the table. If the app tells you your bag is worth $900, the company is willing to write you a check for that amount right away.